Conventional Crown
Our knowledgeable dentists at Lake Country Dental, may recommend a dental crown if your tooth is significantly decayed or damaged. Dental crowns are restorations designed to entirely encase the injured tooth. Because the crown covers the tooth beginning at the gumline, dental crowns are an excellent option for restoring the tooth to its original shape, size, and appearance. While one of the primary uses for dental crowns is the restoration of damaged and decayed teeth, crowns can also be used for a number of other purposes. We may suggest a dental crown for your smile in order to:
Seal and protect a tooth after root canal therapy
Enhance the beauty of your smile
Attach a dental bridge
Complete and cover a dental implant
Support a large dental filling when little original tooth structure still remains
Strengthen a fractured or otherwise weakened tooth
Improve the appearance and function of an irregularly shaped tooth
Each dental crown is custom made to perfectly fit your smile. Our dentists will make sure that your crown fits your bite comfortably. To learn more about the uses of dental crowns and how a crown can improve your smile, we invite you to call or visit Lake Country Dental today.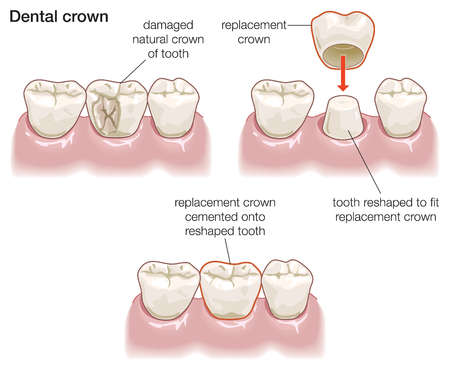 "I've been going here since I was old enough to go to the dentist and I love it!! Dr. Mattson is awesome as well my hygienist. The ladies in the front are always super nice no matter if it's on the phone or in person. I feel like they all know me by name before looking at my information."
Samantha L

"Was able to get my crown the same day I went in, no need for a temporary! Have gone here 25 years, won't go anywhere else!"
Debbie E

"Everyone there is kind and caring. They try to do they're best to put you at ease. And they work hard to make the care you need as affordable as possible. Dental care isn't cheap, but they try to keep costs reasonable. I went on a friend's recommendation and I'll pass the same recommendation on."
Marie Y

"Saw Martha for cleaning, very thorough cleaning and Dr Mattson for exam who was very good, professional and addressed my concerns. Great dental clinic and would highly recommend."
Christine D

"First time patient as we moved up here. The girls in office were excellent and Dr
Moen was very pleasant and concerned of my issues. His personal helper or tech did a very good job also."
Reggie S

"I had an excellent experience at Lake Country Dental. Very friendly and professional staff. Took care of my problem quickly and painlessly. Would highly recommend Lake Country Dental."
John H

"As a new patient of Lake Country Dental I am super pleased with my first experience there. I haven't been to the dentist in about 2 years and I was a bit nervous going in. The staff made the visit pleasant and I came out with a good bill of teeth health. Thank you!"
Amanda Z

"Absolutely great! I was new to Lake Country Dental. Everyone was incredibly friendly and kind throughout my appointment. Dr. Ude is very knowledgeable and pleasant to talk with. I had all my questions answered by her. So glad I went here for my dental. Highly recommend!"
Gabby A

"I had a tooth break on a Sunday. They worked me in on Monday right after noon and in an hour or so had a new crown. Very friendly office staff and efficient admissions. Great experience."
Tim V